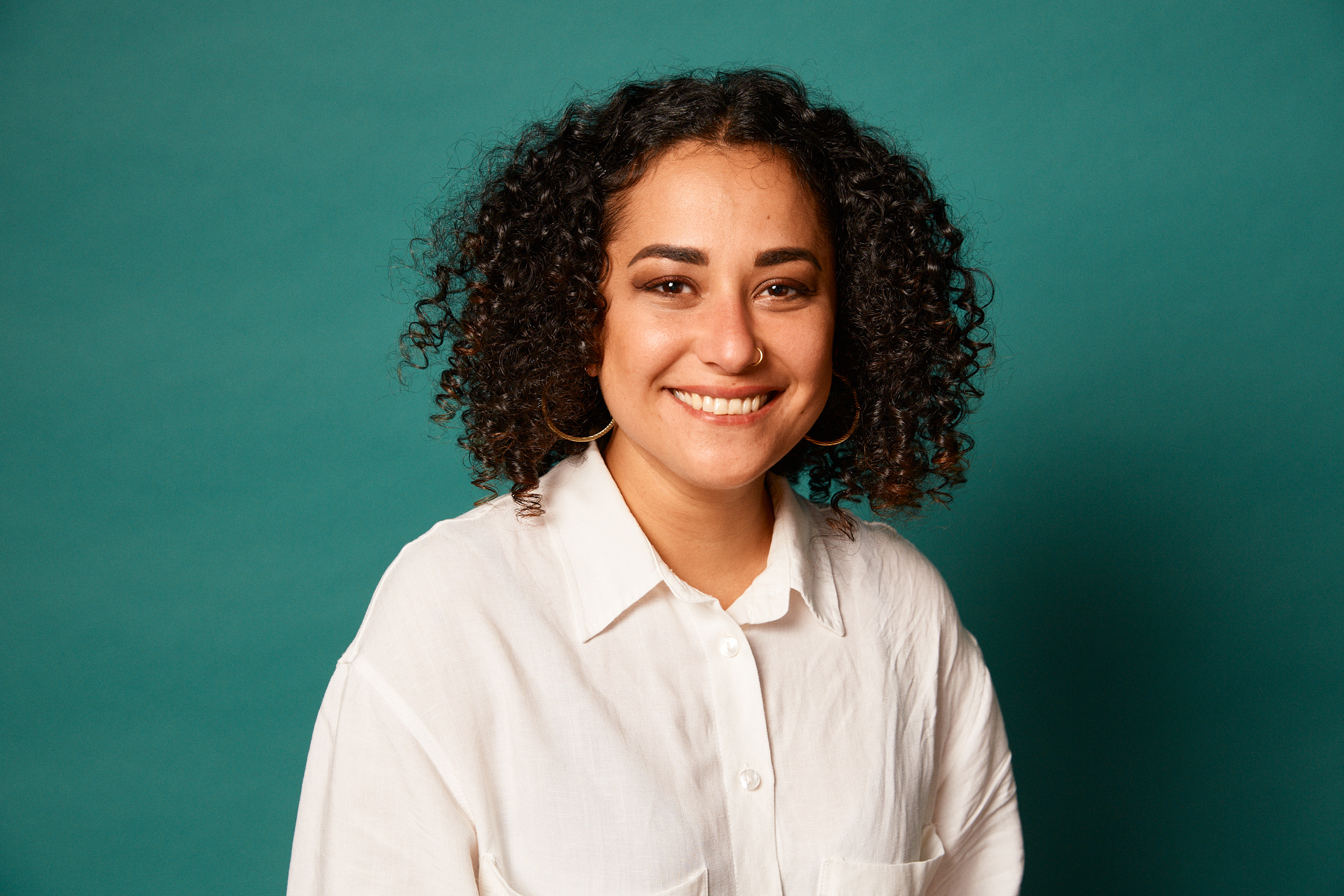 Hi, I'm Golriz!
a Berlin-based multi-disciplinary designer with 10+ years of experience in design.
My work spans multiple categories ranging from fine arts to brand and corporate identity, marketing communications, and user interface design.
I have experienced working in small design studios as well as startups and larger companies where I collaborated with teams across departments including marketing, product and development. As a practitioner of both the fine arts and design in the business context, I combine a sense of aesthetic details with a focus on business and user needs.
My goal is to leverage my expertise in visual conception, typography, and branding to deliver digital products that delight users while maintaining and developing my own sense of aesthetic, especially in the digital space.
I'm flexible and willing to join an exciting start-up, a consultancy or an agency where I can work and collaborate with a diverse and creative team.
I'm currently available for both freelance and contract work in Berlin area or remotely.
SOFTWARE SKILLS


Adobe Photoshop
Adobe Illustrator
Adobe InDesign
Adobe Premiere Pro
Sketch
Figma
InVision
Balsamiq
Flinto
DESIGN SKILLS
Visual Design
Graphoc Design
UI/UX Design
Product Design
Digital Design
Print Design
Brand & Corporate Identity Design
Style Guides
Branding Guidelines
Web Design
Mobile App Design
Editorial Design
Art Direction
Logo Design
Typography
Moodboards
Packaging
Marketing Design
Social Media Design
Competitor Analysis
User Research
User Personas
User Stories
User Flows
Sketching
Wireframing
Prototyping
Testing & Iterating
Mockups
Responsive Design
Native App Design
Illustration
Video Editing
LANGUAGE SKILLS
English: Fluent
Persian: Native
German: Intermediate (B2)
WORK EXPERIENCE
Senior Graphic Designer at Latana
Feb 2021 - Current Date / Berlin
Supporting the Commercial Team — executing visual and communication design work for a range of Latana's externally-facing material: blog material, social media assets, presentations, banners, guides, reports, whitepapers, case studies, and much more


Improving the quality of Latana's website — working collaboratively across teams on ideation, creation, negotiating and implementation


Driving and maintaining our Latana design standards, systems and guideline and creating coherent messaging across all channels



Designing the new user interface of the Latana's data collection survey platform
---
Freelance UI Designer at ACTs.37 Studio
Aug 2020 - Dec 2020 / Remote
Designed website user interfaces and created branding guidelines




---
Freelance Graphic Designer at Former Studio
Nov 2019 - Dec 2019 / Tehran
Supported in identity design, re-branding & brand management projects
---
Communication Designer at Moovel
Oct 2018 - Sep 2019 / Berlin
Designed printable & digital material for social media, events & merchandise




Created app screens and assets for performance marketing, websites & newsletters






Branded cars for company's on-demand services






Supported advertising campaigns in art direction






Implemented Moovel's new corporate identity across all the channels and applications
---
Graphic Designer at Mobisol
May 2016 - Aug 2018 / Berlin, Arusha(Tanzania)
Improved company's corporate identity & managed its brand




Developed marketing plans, supervised photo shoots & supported advertising campaigns




Designed for special events & fairs and created marketing collaterals, giveaways,

customer & sales education material
8 months in Tanzania, design lead on site, trained & supported of local colleagues
Designed websites for country offices in east Africa (Tanzania, Rwanda, Kenya)
---
Assistant of Artists: Vibe Bredahl & Dominique Hurth
2016 - 2018 / Berlin
Assisted artists in coordinating projects, buying supplies, install & dismantle

exhibitions




Helped in creating artworks, edited images, designed books, catalogs etc & administrated communications with printer houses
UI Design Trainee at Mobile Event Guide
Oct 2015 - Apr 2016 / Berlin
Designed printable marketing material, digital assets for apps and created mockups






Created & redesigned location maps & icons for app sections and navigation






Worked on designs for new features & screens in collaboration with senior product designer, backend & frontend teams
Graphic Designer & International Scout for Culture Talks
Oct 2013 - Jun 2014 / Weimar Bauhaus Univesität
Organized cultural events & designed posters and social media material for them



---
Freelance Graphic Designer at Kalaam Publication & Studio Tehran
2009 - 2012 / Tehran
Retouched images, edited and designed children's toy-books




Designed editorials and print material such as books and catalogs for

different clients
EDUCATION
UI Design at CareerFoundary
Jan - May 2020 / Berlin
An intensive 600+ hours of training with industry-leading mentors, designed by experts from companies such as Apple & Amazon
Focused on UI design with hands-on assignments that were reviewed and approved by expert & developed real-world projects using tools such as Balsamiq, Sketch, and Usability Hub
Master of Media Art & Design at Bauhaus Universität
Oct 2012 - Jun 2015 / Weimar, Thüringen
Recieved "

Frauenförderfonds";

Women's Fund for thesis project

/

Equal Opportunities Office, Bauhaus University

/

Weimar, Germany

/

June 2015



Bachelor of Visual Communication at Art University of Tehran
Feb 2006 - Sep 2010 / Tehran
INDEPENDENT COURSES
Data Visualisation / D Lab Tanzania / Dar es Salaam, Tanzania / December 2017
Video Editing Premier Pro / ESDIP Berlin / Berlin, Germany / October 2017
Type and Image / Instructor: Farhad Fozouni /
Tehran, Iran
Light and Color in Painting (Oil painting Techniques from Early Baroque Till Now) / Instructor: Ariasb Dadbeh / Honar Atelier / Tehran, Iran
Painterly Approach to Color as Space / Instructor: Babak Etminani / Tehran, Iran
Figurative & Space Drawing / Instructor: Saeed Ravanbakhsh / Charsoohonar Visual & Cultural Institute / Tehran, Iran
Contemporary Art Theory & Painting / Instructor: Tooran Zandiyeh & Gholam Hosein Nami / Gholam Hosein Nami's Atelier / Tehran, Iran
Basic Drawing / Instructor: Mohammad Mehdi Alizadeh / Tehran, Iran
OTHER PROFESSIONAL EXPERIENCES



(Volunteering / Activities / Participations)
Assistance in creating the "Chronometer of Iran Graphic Design" (Recording the History of Iranian Graphic Design), a project by Iman Raad, Aria Kasaee & Farhad Fozouni / Tehran, Iran / 2010 - 2011
Packaging Workshop with Concentration on Branding / under supervision & with cooperation of Vije School of Visual Communication & Tetra Pak Company / Iranian Artists Forum / Tehran, Iran / Dec 2010
Joining in BETA EXPERIENCE Creative Design Group / 2009
Joining in CHARSOO HONAR's Third Generation Drawing & Painting Group / 2005
EXHIBITIONS
She Is No Longer Present
's Reading Room / A collaborative Exhibition curated by Duygu Atçeken / Iconotope Gallery / Weimar, Germany / December 2015
Translate, Transmit / A joint exhibition with Bethan Hughes / weARTgalerie / Weimar, Germany / 2013
Strangely Familiar A joint exhibition with Bethan Hughes / Marienstaße 9 / Weimar, Germany / July 2012
The First Visual Arts Great Festival & Exhibition of The City / under supervision of Arts & Cultural Organization of Tehran Municipality / Imam Ali Museum / Tehran, Iran / August 2008
CHARSOO HONAR's Third Generation Drawing Group Exhibition / Shafagh Gallery / Tehran, Iran / November 2006
PUBLICATIONS
Illustration of "Number Four Story" Book / Written by Babak Saberi / "Children" Publication